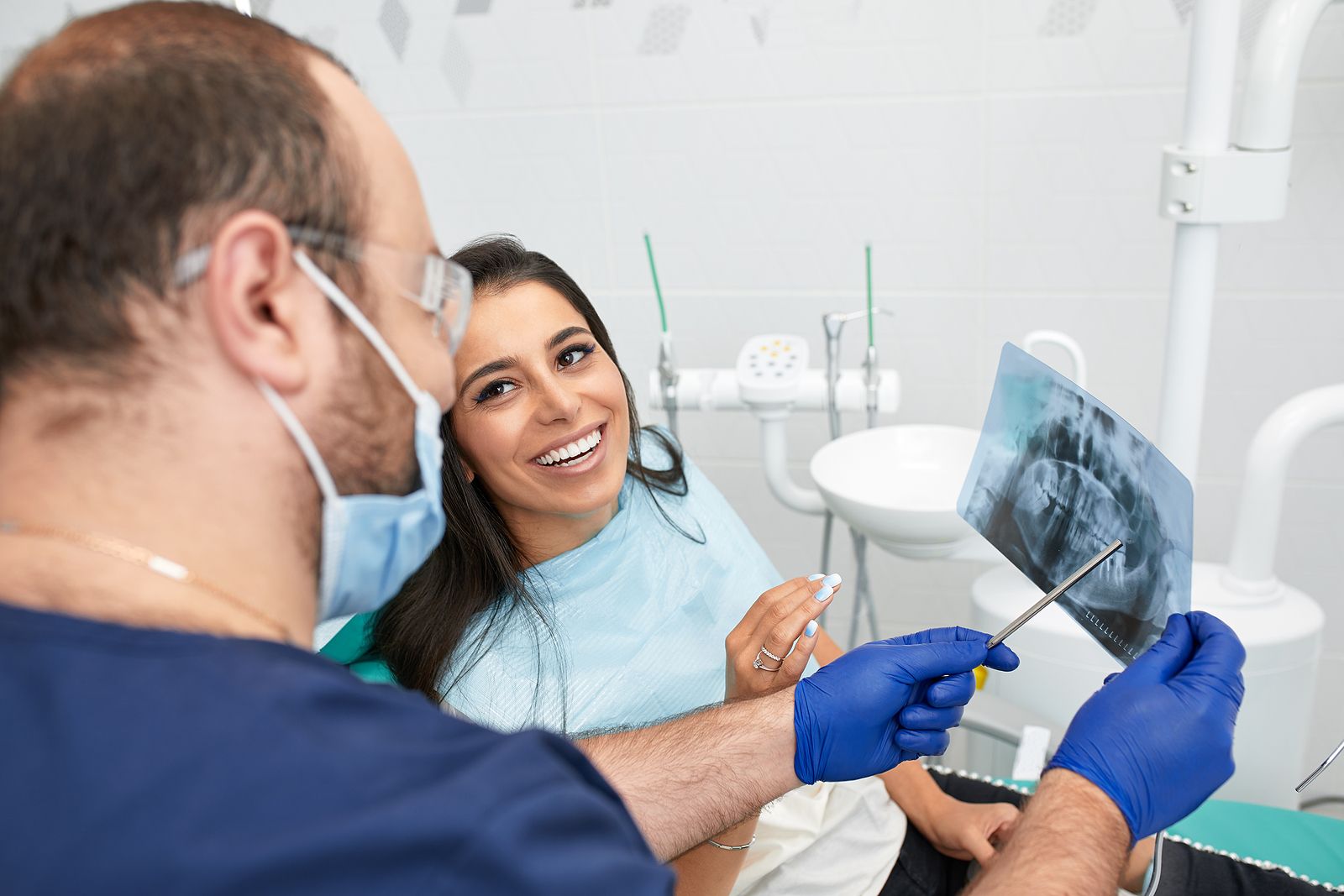 Dental Payment Plans? United Medical Credit Can Help!
Do you or your family need dental care you've been putting off because of concerns about the upfront cost? Do you wish you had a nicer smile, but stress about the cost of dental crowns, dental implant surgery, and other cosmetic dentistry and oral surgery? Have you noticed indications of a problem such as dry mouth, a pocket of infection below the gum line, gingivitis, and other gum disease or possible signs of oral concern that you've been delaying having checked out? Do you just want to be more proactive about your dental health and access affordable dental care?
If you answered "Yes" to any of these questions, United Medical Credit can help you access dental payment plans that allow you to afford dental treatment without worrying about the upfront bill, so you and your family can enjoy the great oral health you deserve!
United Medical Credit's network of dental lenders makes dental finance easier and less frightening, by letting you access flexible payment plans and finance options that let you pay for dental care with a low monthly rate that fits your budget and lifestyle. And United Medical Credit's lender network never charges application fees, making it even easier and more affordable to access great dental healthcare, including but not limited to:
Bone graft surgery
Braces
Ceramic crowns
Dental filling
Dental veneers
Exams and X-rays, including digital X-rays
Gum disease treatment
Invisalign clear braces
Missing teeth
Oral cancer screenings
Oral surgery
Orthodontics
Pediatric dentistry
Porcelain veneers
Restorative dentistry
Retainers
Root canal treatment
Sedation dentistry
Sensitive teeth dental plans
Sleep apnea treatments
Teeth cleaning
Teeth whitening
Tooth extractions
Tooth pain treatment plans
Wisdom teeth removal
And much more!
At United Medical Credit, we believe everyone should have a fair chance at accessing regular and emergency dental care for themselves and their families, because oral health is such a crucial part of overall health and getting, and staying, ahead in our modern world.
We also believe that your dental plans should be between you and your dentist, without some bean counter playing middleman and telling you what treatments you can and can't have. Whether you need wisdom teeth extracted, a simple cleaning, or emergency dentistry, United Medical Credit's experienced lender network can help make medical dental and even veterinary care more accessible than ever before.
To start your application for flexible financing plans that make dental work less painful on your budget, click here.
And to find out more about United Medical Credit's network of experienced dental lenders and why you should consider working with us to make your perfect mouth a reality, keep reading for our answers to Frequently Asked Questions about dental payment plans from customers and applicants just like you!
Frequently Asked Questions About Dental Payment Plans
United Medical Credit believes informed, and empowered consumer is better able to advocate for themselves financially and medically, which is why we give you honest answers and real information about all your healthcare financing options, from cosmetic dentistry to starting a family to taking care of your furry friends!
Question: My dentist offers payment plans, so why should I finance my dental care with United Medical Credit? –Ellen, Sturgis, SD
Answer: Many dentists around the nation offer payment plans through their practice. The problem with many of these plans is that, because they are effectively private arrangements, there's very little regulation in most places to protect consumers from predatory lending practices. This means you could get discounted dental care at a low monthly payment with no interest during the promotional period, but six months or a year from now your monthly payments and interest could jump dramatically—and there's not much, if anything, you can do about it if that happens. If you're considering a dentist with payment plans or paying with major credit cards, we strongly recommend you ask for the full agreement upfront. It is very important to read the fine print carefully, including all the terms and conditions, and compare the offered interest rate and terms with that of an established, reputable lender like the rate one of United Medical Credit's member lenders offers before you agree to anything. Remember, as the consumer and patient, you have the power to choose where your money goes and to protect yourself from predatory lending with just a little research!
Question: My dentist quoted me over $17,000 for dental work, and I don't know how I'm going to pay my bill. What are my options? –Samuel, Big Bear Lake, CA
Answer: There are a number of ways to offset the immediate cost of dental care. However, each of these plans and options comes with its own load of other questions. Just because a dentist "accepts most dental insurance" doesn't mean they'll accept yours, or that your accepted insurance will cover the treatments you need. Dental savings plans are another way to save on dental care in the long term, but your dental savings plan might have it's own boilerplate governing what the funds will and won't cover, or under what circumstances you can and can't access them, much like a healthcare credit card like Care Credit. If your dentist doesn't accept CareCredit, accept Medicaid or accept your dental insurance plan, it could seem like the end of the line. However, United Medical Credit's lending network offers patient references so you can request an appointment for the dental care you need with competitive interest rates, less red tape and less financial stress!
Question: I'm looking for payment plans near me, but every dental fee plan I look at is confusing and hard to understand. Can United Medical Credit do better? –Sarah, White Plains, NY
Answer: Actually, yes, we can! United Medical Credit is different from many traditional lending outlets because our lender partners are always working to find better ways to help our customers afford the dental care they need with a payment schedule that works for them, letting them establish a better balance between keeping more of their money and getting the dental treatment they need without worrying about the bill. Each dental payment plan our network of lenders creates is tailored to your unique, individual circumstances and personal needs, so you can choose the plan that works for you. We make it simple to apply, compare and accept a given plan's payments if you like, but you're never under any obligation to accept any offer you receive from our lending partners. Your dentist will like working with United Medical Credit too because they get paid faster, often within 24 hours, without you having to write a single check, payout of pocket, or stress over whether credit card acceptance. That's why we're confident that if you need a dentist payment plan but want to skip the hassle and concern about how much money it's going to cost you, United Medical Credit is your source for the right plan payments for you and your family!
Question: Does United Medical Credit offer dental plan payments for people who have had problems with their credit history? –Jason, York, Nebraska
Answer: At United Medical Credit, we understand you're a lot more than just your credit bureau file. United Medical Credit's lender network has unparalleled flexibility to accept most dental applicants, even those with a poor credit history or those who have been turned down for loans elsewhere. When someone applies for a medical line of credit with our lender network through the United Medical Credit website, United Medical Credit checks their current credit score and information using what is known as a "soft check." These checks are free and do not impact your credit score in any way. They're just a routine review to prequalify applicants and help pair them with the lenders who can best help them meet their needs. Following the soft check, the borrower's information will be passed through to the lenders for further action. They may require a "hard check" on your credit, which is the kind of check you undergo when you're applying for a credit card, home, or auto loan. Once the review process is complete, the lenders who match with a given borrower's needs will extend offers under their own terms using United Medical Credit's interface, which makes it easy to read and understand the terms and conditions of the offers. While we cannot guarantee any given applicant will receive a loan, our lenders have a much higher rate of acceptance than average, giving you a better chance of accessing the money you need for your dental care, faster and for less than you might have been led to expect!
Question: Does United Medical Credit only offer dental payment plans? –Bill, Amarillo, TX
Answer: Certainly not! United Medical Credit's lender network offers loans for all areas of medicine and healthcare, from cancer treatments to cosmetic surgery and even veterinary care for your furry, feathered or scaled family members. Our lenders offer healthcare loans for services including:
Bariatric surgery
Cosmetic surgery
Dentistry
Emergency healthcare
IVF and other fertility treatments
Veterinary medicine
Vision care
And much more!
No matter what your healthcare needs, United Medical Credit's lender network is here and ready to help you access the money you need to get the treatment you require and the good health you deserve, with a payment plan and interest rate you'll love. Click here to start your application today and find out for yourself why 1000's of people have come to trust United Medical Credit for their healthcare and dental finance needs!
Question: How do I apply for dental payment plans through United Medical Credit? –Shelby, Mooresville, NC
Answer: Our website makes it fast and easy to apply for loans from $5,000-$35,000. We'll ask you for some basic financial and personal information so we can match you with lenders who offer loans that meet your needs. Then the lenders you've matched with will evaluate your information, and may request additional data to help them determine whether to offer a loan and under what terms. Usually, you can expect to hear back within 24 hours if you've been approved for a loan, and payment could be in your healthcare provider's bank account as little as 24 hours later!
At United Medical Credit, we work hard to make access to loans faster, easier, more convenient and less confusing for borrowers. Our convenient application form can be accessed with one click, so you can get on with your life and getting the care you need with a dental payment plan that fits your needs.
Click here to see how fast and easy it can be to get a loan, even if you've been turned down elsewhere, from United Medical Credit's lending network!